Presidents, Heads of School, Principals, Board Members, Directors of Advancement and Directors of Admissions...Save the Date!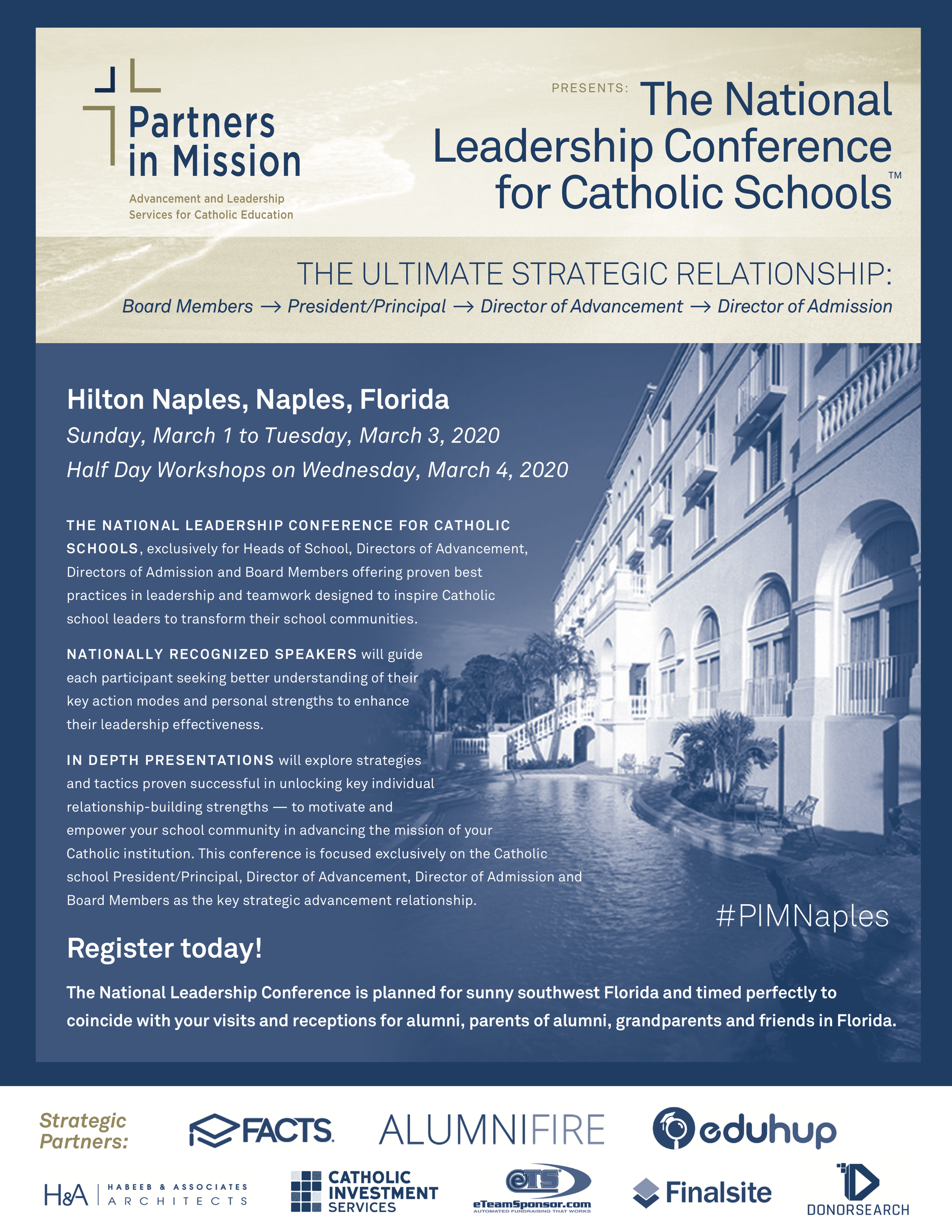 Save the Date!
Join the Partners in Mission Team from Sunday, March 1 to Wednesday, March 4, 2020 in sunny southwest Florida for The National Leadership Conference for Catholic Schools at the Hilton Naples Hotel!
This year's keynote is Fr. Edward "Monk" Malloy, C.S.C., the President Emeritus of the University of Notre Dame.
Rev. Edward A. Malloy, C.S.C., completed his 18th and final year as president of the University of Notre Dame on July 1, 2005. He now serves as President Emeritus. As the University's 16th president, Father Malloy was elected by the Board of Trustees in 1986, having served five years as vice president and associate provost.
Father Malloy led Notre Dame at a time of rapid growth in its reputation, faculty, and resources. The University has seen a dramatic improvement in its financial aid resources, in the quality of its campus facilities, and in the diversity of its student body and faculty. It has fostered its distinctive identity as a Catholic university while gaining the recognition of its peer institutions, Catholic and non-Catholic alike.

Father Malloy earned his doctorate in Christian ethics from Vanderbilt University in 1975, and Vanderbilt honored him in 1998 with the establishment of a chair in Catholic studies in his name. He has also been awarded 25 honorary degrees. He earned bachelor's and master's degrees in English from Notre Dame in 1963 and 1967, and a second master's degree, in theology, in 1969 while studying for the priesthood. He was ordained to the priesthood in Sacred Heart Basilica on campus in 1970.
Father Malloy is presently on the boards of the University of Portland, St. Thomas University, Notre Dame Australia, Saint Mary's College and the Notre Dame Board of Trustees. In 2009 he completed two terms on the Vanderbilt Board.
For more information or to register for The National Leadership Conference for Catholic Schools, download the conference brochure or register on our website.
We hope to see you in Naples!
Read more

about Join Us in Naples - Notre Dame President Emeritus Set as Keynote!